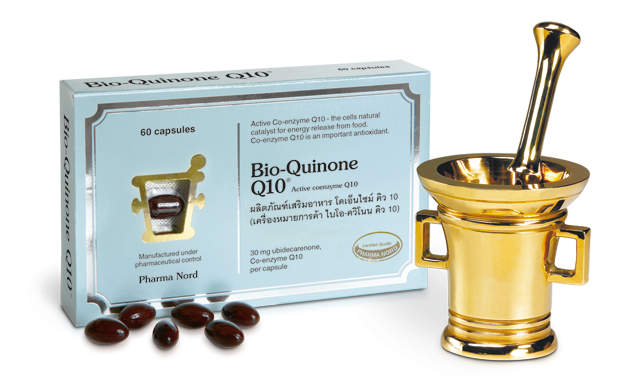 The original documented Q-Symbio Q10 - 100 mg

Unique fomula with documented high bioavailability
20 years of consumer experience on safety and efficacy
Documentation from more than 90 scientific studies
Official reference product for ICQA(International Coenzyme Q10 Association)
Bio-Quinone Q10 contains Q10 in vegetable oil in soft lightproof gelatin capsules
Manufactured under Danish pharmaceutical control

1 capsule contains

Co-enzyme Q10 (ubiquinone)
100 mg
Dissolved in soya-bean oil
Directions:

1-2 capsules per day or as directed by a physician.

Do not exceed the recommended amount.

Do not chew the capsules, but swallow them whole. To be taken with food.

Yeast, sugar and gluten free.

Not suitable for vegetarians.
Dietary supplements should not replace a varied diet.
Ingredients

Bulking agent: Soya bean oil

Capsule shell: Gelatine

Co-enzyme Q10

Humectant: Glycerol, Purified water

Antioxidant: Vitamin E (d-alpha-tocopherol)

Color: Iron oxide
Storage
Store below 25°C and out of direct sunlight.

Keep out of reach of children.
Interested in products, contact us CLICK