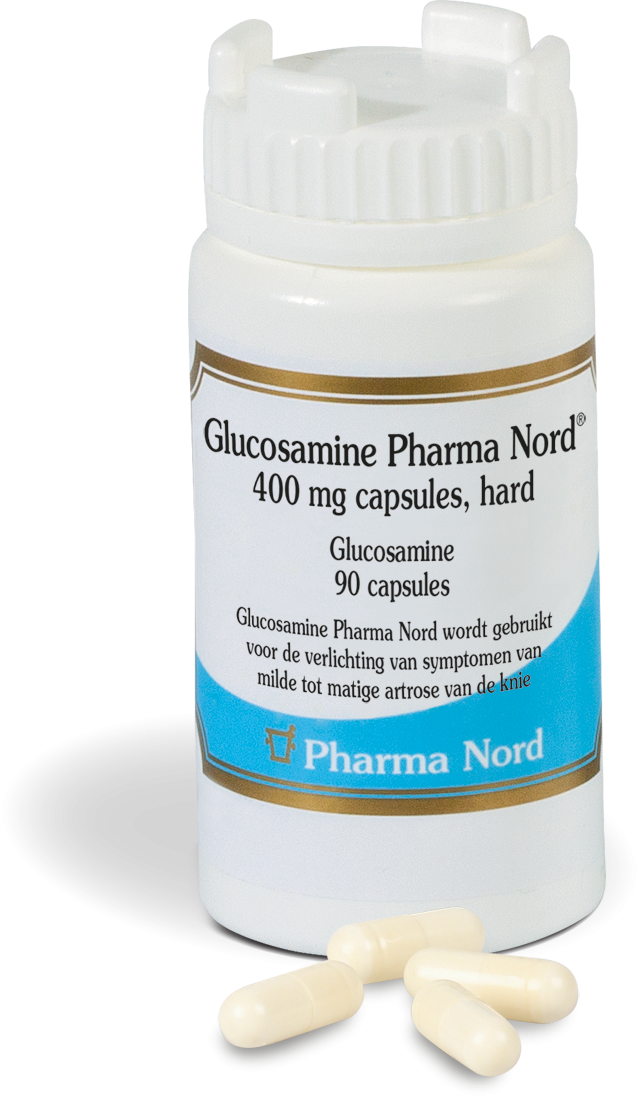 Glucosamine - For relief of symptoms of osteoarthritisบ

Combat osteoarthritis symptoms

Contains glucosamine sulphate

Easy to swallow capsules, but can also be opened in order to mix the contents with water, juice or yogurt

Manufactured under Danish pharmaceutical control
Osteoarthritis leads to pain, stiffness and limitation of movement. More than twice as many women as men suffer from osteoarthritis. Osteoarthritis of the knee is the most common form, followed by osteoarthritis of the hip.

Glucosamine for osteoarthritis symptoms
Glucosamine is an endogenous substance that supports the structure of cartilage. Effective glucosamine is extracted from the hard parts of crustaceans. People who are allergic to crustaceans are not recommended use of glucosamine.
The literature shows that there are major differences in quality and purity of glucosamine from different sources.

1 capsule contains

Glucosamine sulphate, 2KCI
676 mg
(Equivalent to Glucosamine 400mg)
Dosage


Adults and elderly:

The usual dose is 1 capsule 3 times daily. Alternatively, you can take all 3 capsules at one time.
Children:

Should not be given to children under the age of 15 without the instruction of a physician.

The capsules should be swallowed whole with a full glass of water.
Ingredients

Glucosamine hemisulphate-potassium chloride complex, magnesium stearate.
Capsule: Gelatin. Colouring: Titanium dioxide.

Do not use if allergic to crustacean shellfish.

Read the package leaflet before use.

Storage

Dark, dry and at room temperature. Do not store above 25°C. Store in original packaging and keep container tightly closed. Keep out of reach of young children.